Shorah Everyone
I was recently cleaning out my favorites checking to see what still worked when I came across a site with information about something called the Chime/ Turing Page Journals. The journals were hidden around the old Myst 3 site and provided some additional back-story for Saavedro and were hypothesized to be part of some kind of puzzle, though to my knowledge if it was then it was never solved. After doing a bit of searching I managed to track down images and text for these journals and figured that they seemed to be worth sharing if for no other reason than to give a little bit more of a glimpse into Saavedro's motivations and thoughts.
The Chime Journals
These were hidden around the Myst 3 site and were named for the chime sound that played upon reaching the hidden page. Each of these entries was a static image of a journal page with some surrounding details.
Journal One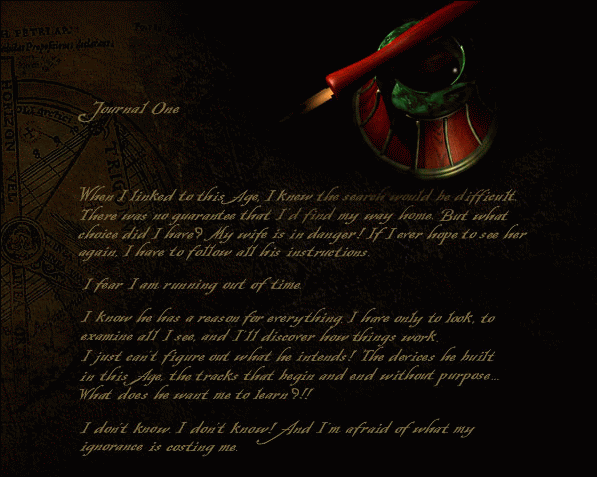 Journal Two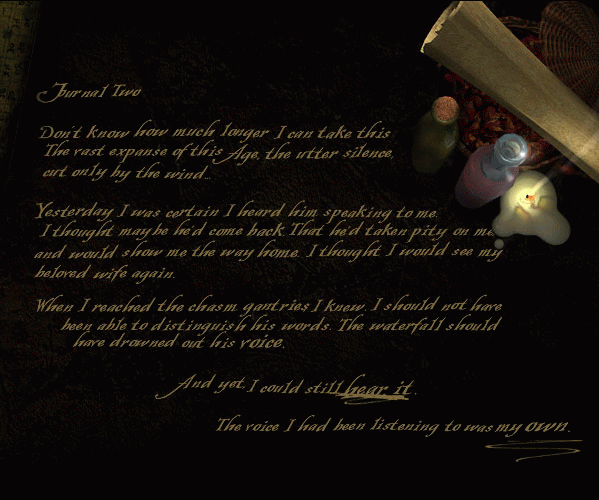 Journal Three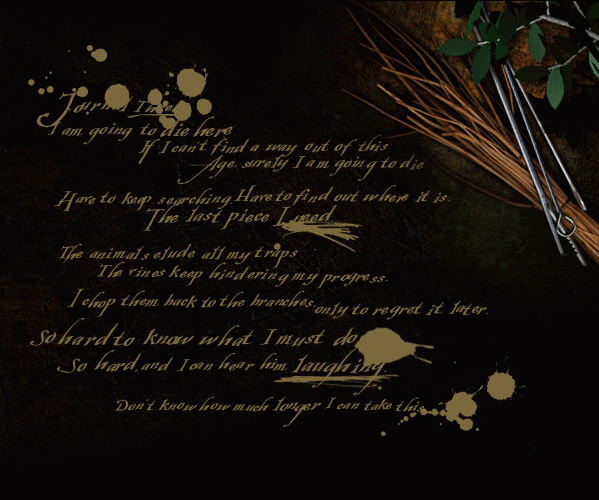 Journal Four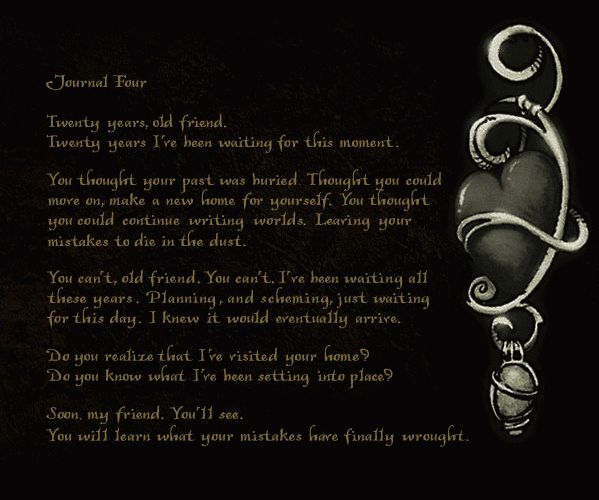 The Turning Page journals
These are a bit more complex as they were comprised of two sets, journals and Entries, which were also hidden on the site.
Journals
There were three of these hidden around the site. Unfortunately these were flash animations so I can't provide pictures of them but to my surprise two of them got recorded on the internet Archive. Here are the links for those.
Journal 6698
Second Journal
Journal 7263
Third Journal
Unfortunately the first journal doesn't appear to have survived in its initial format, however I was able to find a record of the text contained within it. For the convenience of any readers who cant get the links to work I'll post the contents of all of the journals in text format.
Journal Text
Journal 1512
Our meticulous notes and journal entries are only so many scattered pieces of paper - without order, without connection. It makes me wonder if the key to all this can ever be found. I shall rest now, and perhaps will find answers in my dreams ...
Journal 6388
My hand trembles as I write. I was awakened early to find a page. Such writing!
It is a doorway. But a doorway to what? Why do I feel the faintest sense of foreboding? We don't feel welcomed here - as if treading in a forbidden place. Are we being observed?
[See also Entry 6388.]
Journal 6698
A most intriguing find moments ago ... a hidden place that seems incongruent to the natural formations and patterns of this Age.
Ancient? Perhaps. At this moment we are gleaning what we can from the site, and more will surely follow.
Somewhat disturbing ... I do not know what to write.
Journal 6899
So many symbols and signs. Words that have no meaning, as voices couched in the dust. What will be revealed?
[Note the similarity of this to "entry nine".]
Again, I have no words to accurately describe what we have found. From Age to Age we traverse worlds, and yet we have never discovered anything quite like this.
I am being summoned.
Journal 7248
Do I struggle to find meaning where there is none? Or do these remnants truly indicate something of great importance? What at first seemed mundane has become evidence of great, hidden secrets. Little can be taken for granted here and yet, even with all our previous experience, we find our abilities lacking.
Journal 7263
He is here; there can be no doubt of it now.
Our days spent in exploration and dangerous journeys ... and now to have come to this.
The writings warn us, leaving many clues to the [ink blot, blank space...] he's coming.
Journal 9072
We have arrived. Greeted by the expected vistas and wonders we find in all our journeys.
A cursory glance of the area about camp suggests all is as it should be within this Age; I anticipate a thorough, yet brief accounting before we move on to our next exploration.
Entries
These Unlike the journals I don't believe that these actually had there own page, they were just text hidden on various other pages, as of such I will just provide them in text format.
(Untitled)
Our journals and notes are scattered. Our search has lead us to a page, a place that reveals much about this site. Things are not as they seem .
entry nine
Our explorations and research have told us little of what's beyond these pages. Only dust. So many strange signs, strange words ... it's all so new. Soon we will find what we have been looking for.
Entry 1125
The disorientation isn't quite as horrible as the fear. Perhaps the fear adds to the strange vertigo..wondering if I am up or down or perhaps backwards in time.
Entry 5241
We've just begun, and already I'm tired. The threats, added to the mystery of ages, has compounded my misery. My legs ache, but I don't tell the others.
Entry 5932
This is nothing like the scripting...its altogether different. To believe it's a form of communication may be accurate, but to be self-assured in knowing how ancient this "language" is would be a mistake. Quite dangerous to assume anything here.
Entry 6388
Our explorations and research has taught us little of what's behind these pages. Only dust. So many strange signs, strange words....its all so new. Soon we will find what we have been looking for.
Entry 8591
Our old ways...the rules and the wisdom. They don't work here. We are, once again, breaking our own rules just to survive and to live long enough to understand the ways of this world.
Well that's all that I have for now, though I might have something to add to this later. I hope you all found this to be interesting and enjoyable. I also feel the need to post a link to
Marck's Site
which got me started on this and proved me with invaluable information on the subject.